Purcell Championship 2016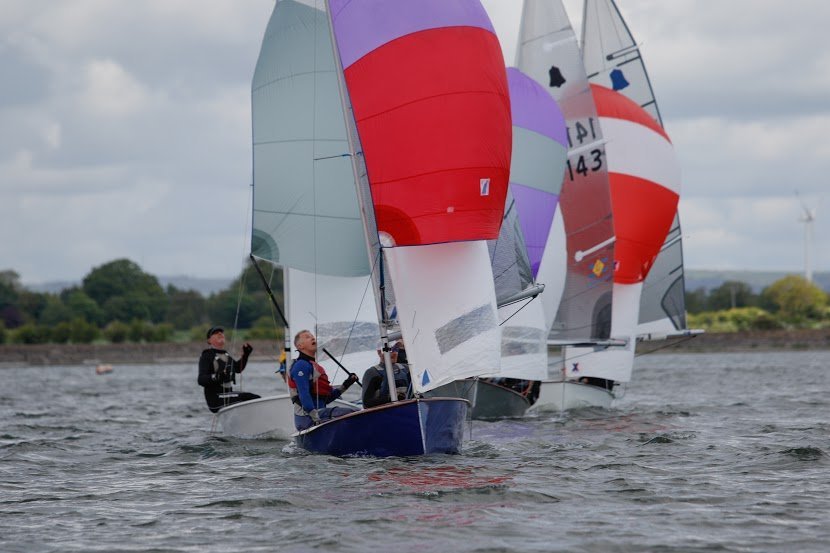 The Irish GP 14 fleet returned to domestic competition at the weekend after a very enjoyable World Championship in Barbados over Easter, made all the more enjoyable when we had an Irish winner in Shane MacCarthy & Andy Davis.
The Purcell Championship hosted by Swords Sailing Club on Saturday 21 May was sailed over four races. The first race saw our newly crowned world champion first at the weather mark and remained there for the rest of the race. With Keith Louden & Alan Thompson taking second and Hugh Gill with his new boat and new crew Simon Revill beginning to find some form in third.
Race 2 saw Shane & Damien round the weather mark in first followed closely by John & Donal McGuinness in second and Keith & Alan in third. On the second beat the wind shifted to right favouring the McGuinness brothers who were first to the weather mark and held it all the way to the finish. Shane & Damian took second followed by Keith & Alan in third.
Race 3 started with significantly less breeze than the morning races and saw the McGuinness Bros get to the weather mark first followed by Shane & Damian. With the breeze slowly dying the world champion showed his superior speed in light airs and passed John & Donal to leeward on the second reach and held the position to the finish. The McGuinness brothers were second with Richard Street & Simon Dickson in third.
Race 4 was sailed in a light-shifting breeze. Curly Morris & Laura McFarland led at the weather mark with Richard Street & Simon Dickson in second followed by Shane & Damian. At the end of the of the first lap Keith & Alan were at the back end of the fleet but an inspired tack to the left at the start of the second beat paid dividend and put them in the top four at the weather mark. Next time around at the weather mark they had got themselves into second just behind Richard & Simon. With the race shortened and one leg to go it was a drag race to the finish with Keith & Alan coming out on top and finishing first with Curly & Laura in Second and Richard & Simon in third.
Shane & Damien retained the Purcell Championship with two first and a second. Keith & Alan's dramatic comeback in the last race was enough to wrestle second place from John & Donal who finished third overall.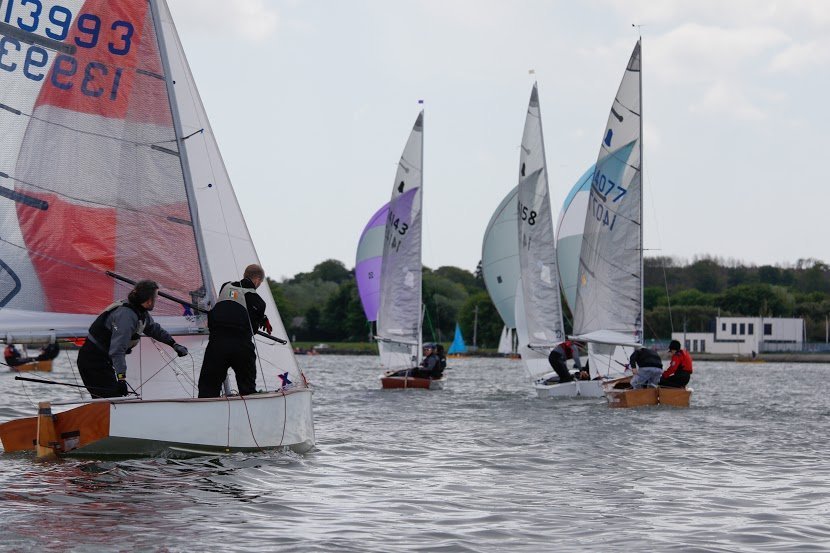 Katie Dwyer & Michelle Rowley took first overall in the silver closely followed by Michael Cox & Josh Porter in second and Cathal Sheridan & David Cooke taking third in the silver. Pat Savage and Linda Darby took first overall in the Bronze fleet while Bernie Grogan & Rosena Cuddy finished a creditable second.
Thanks again to the event organisers and members at Swords Sailing and Boating Club for providing a warm welcome and great racing.
John McGuinness
Photography © Paul Rainey