Northern Bell – race report for Royal Windermere YC
Northern bell GP14 Open Meeting at Royal Windermere Yacht Club on 16th June
With a good forecast 9 boats competed over three races in the south lake.
The first race which was sponsored by Goacher Sails was won by Robert and John Richardson sailing Spirit in a increasing wind. Second were Richard Thompson and Alex Nield in Short and Sweet with visitors from Bolton sailing club Zena Martin and Leanne Pilkington sailing Monkey See Monkey Too coming in third.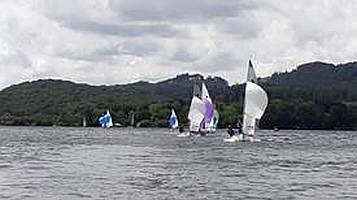 By now for the start of the second race sponsored by Impact Marine the white caps were glistening in the bright sunshine. Robert and John in Spirit took the honours again with Simon Mcvey and Judith Gore sailing Dreamcatcher second and Zena and Leanne following in third.
For the start of the third and last race clouds had replaced the sunshine and the wind strength had dropped. Zena and Leanne rounded the first mark first and were never looked back. Second was Simon and Judith with Robert and John third.
After one Discard this left Robert and John First overall. Zena and Leanne on the same point score as Simon and Judith but getting second on count back.
Thanks to John Richardson, Dinghy Class Captain for the report, and to Natasha Lister for the photo