Ireland – Purcell Trophy – Greystones SC
Congratulations to Ger Owens & Mel Morris on their Purcell Trophy win. It was a hard fought battle between Ger & Mel and Greystones Shane MacCarty sailing with Damien Bracken. The Purcell Trophy 2017 was hosted by Greystones Sailing Club in Ireland, in their fantastic new harbour and clubhouse.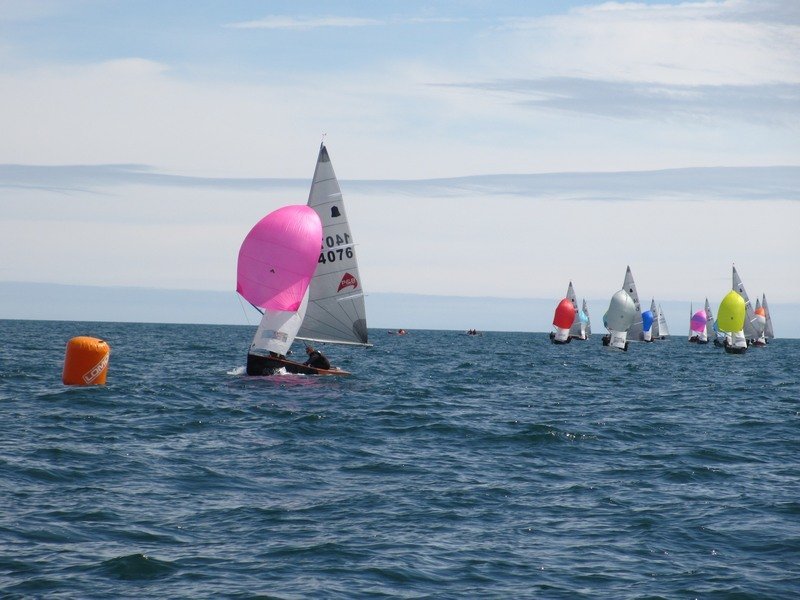 Report by Alan Thompson
After an hour's wait on Sat morning for the mist to clear the 26 strong GP fleet finally launched.
Race 1 got underway with a clean start and no recall (unusual in this fleet). Ger Owens & Mel Morris were back in business with the win, Shane McCarthy & Damian Bracken taking 2nd with Alan Blay & David Johnston in 3rd.
Race 2 started with the wind starting to build. Shane & Damian took the win with Ger & Mel in 2nd and John & Donal McGuiness in 3rd.
Race 3 started with gusts of winds of 26 knots. Alan & David retired with gear
failure. Ger & Mel continued to dominate and brought home their 2nd win for the day. Shane & Damian picked up an OCD so Colman Grimes & Eoin Boyle came home in 2nd with Alistar Duffin & Andy Corkhill in 3rd.
Race 4 started on Sunday morning with lighter winds and sunshine, Ger & Mel once again on form with another win and Alan & David with their boat repaired took 2nd just ahead of Shane & Damian in 3rd.
Race 5 was a closely fought battle between Ger & Mel and  Shane & Damian with Ger &Mel winning and Shane & Damian close behind in 2nd. Simon Culley & Libby Tierney pulled off a fantastic move on the downward leg by going close to the shore and took 3rd place.
Race 6 was cancelled as the wind died.
So the gold fleet was won by Ger & Mel.
The silver fleet was dominated by the Gallagher brothers, sailing well once again.
The bronze fleet was won by Josh Porter & Sina Hartman in their first event.