Gill Beddow honoured by RYA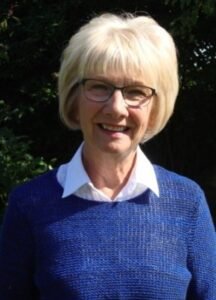 Gill Beddow, South Staffs SC member, long-time GP14 sailor and Chair of the GP14 Championship Committee, will receive one of the Royal Yachting Association's most prestigious awards from HRH the Princess Royal, President of the RYA, later this month in celebration of her huge contribution to the sport.
Gill, from Little Onn near Stafford, will be honoured with an RYA Lifetime Commitment award by sailing's national governing body, which recognises individuals who have shown exceptional commitment and dedication to their club or organisation for at least 15 years.
A South Staffs SC member since 1986, Gill's organisational skills, energy and attention to detail have helped the club thrive. From her meticulous attention to duty rotas, to coordinating trophies and organising the club's very successful 60th Anniversary celebrations in 2014, Gill has a very inclusive attitude and is very successful in encouraging other club members to discover the enjoyment that comes from helping out.
Gill has played a key role in ensuring club facilities have been maintained to the highest standard, and this all contributed to South Staffs SC being named RYA Club of The Year Award in 2011. In addition Gill has been a keen GP14 dinghy racer, and in her role of Chair of the Championship Committee has been crucial in organising regional, national and international GP14 events. She is currently arranging the 2016 GP14 World Championships in Barbados.
She said: "Sailing has given me confidence and skills I never thought I would have, and on the way meeting many people with similar aspirations. I am a firm believer you only get out what you put in and have been very fortunate to belong to a very special sailing club, one I hold very dear and enjoy helping to be even more successful.
"Sailing is a great sport as both males and females can compete on equal levels and it is a superb sport for youngsters as it teaches them so many life skills. It makes them very rounded individuals, at ease with adults and offers them so many opportunities in their late teens and university years to pursue many different avenues from instructor roles to racing and big boat sailing activities and travel.
"The year after we joined South Staffs I volunteered to be Social Secretary, a job I thoroughly enjoy and which I feel is essential to making a good club atmosphere, while more importantly meaning newer sailors and members have an opportunity to make friends. I have also enjoyed bringing on the new sailors and giving them confidence to improve their skills and start racing."
Gill with husband Chris initially joined South Staffs SC so their three boys, who were in their early teens, could learn to sail. Over the next two years she and Chris also learned and the sport became the family's shared passion. Over the years she has also organised 15 May Day yachting 'away' weekends, chartering boats for up to 35 people, and has also gained RYA Day Skipper and RYA Yachtmaster (theory) qualifications.
Gill was nominated for her award by South Staffs SC and selected as a winner by the RYA Awards panel. She will enjoy a celebratory lunch in the presence of HRH the Princess Royal, and be presented with a commemorative medallion and certificate.
Duncan Truswell, RYA Sport Development Manager, added: "The RYA Volunteer Awards are all about celebrating the commitment of the countless volunteers who do fantastic work to support boating in all its forms. These people are the lifeblood of our sport; they keep our sailing clubs, events and our organisations thriving and make it possible for others to get out on the water."
For more information about the RYA Volunteer Awards visit www.rya.org.uk/go/RYAVolunteerAwards.
Contributed by South Staffs SC