Weymouth Sea Training 2022
Date/Time
Date(s) - 2 Jul - 3 Jul
All Day
Location
Weymouth and Portland Sailing Academy
Category(ies)
---
Saturday 2nd and Sunday 3rd July 2022
Venue Portland Harbour, Weymouth at the Andrew Simpson Centre
Update: Entry is now open in our website Shop.
Brush up your sea sailing skills on this weekend!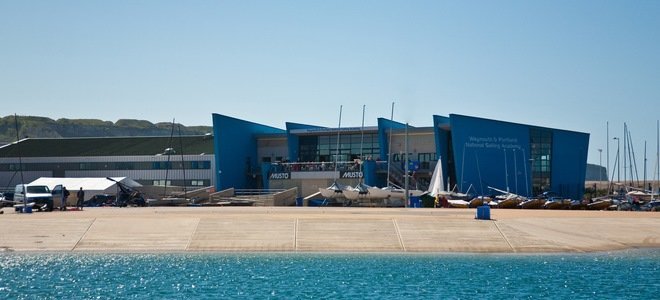 Weymouth & Portland National Sailing Academy
The weekend is primarily aimed at adult training, and being run by a Senior Instructor from the Andrew Simpson Centre and Guest Coach Sam Watson – top GP14 sailor!
The weekend will start at 10.00am with a short Classroom session followed by launching and a morning on the water of Portland Harbour. Lunch with a debrief of the mornings sailing and then back out sailing.
Day 2 will have a similar format and possibly outside of the harbour. More details will follow in due course.
Camper vans can book onsite directly with W&PNSA. There is a café where breakfast and lunches are available. There is also a Lidl next door.
An entry form is available on the website in the Shop. The cost of the weekend per boat is £130. The balance is due via the Shop by June 1st.
This is a fantastic opportunity to brush up your skills with many sea sailing events on the Calendar for 2022, not to mention the World Championship in Skerries.
---
Entry List:
Entries for Weymouth Sea Training No.2
at 01:14 on Tue 3rd October
| Entry | Boat Number | Helm Name | Crew Name | Sailing Club |
| --- | --- | --- | --- | --- |
| 1 | 14190 | Matthew Hall | Stuart Duckworth | Frensham Pond SC |
| 2 | *Dep*14163 | Bruce Craven | Paul Trubridge | Frensham |
| 3 | *Dep*14149 | Anthony Perkins | Caroline Perkins | Frensham Pond |
| 4 | *Dep*13693 | Paula Sheehan | Denise Vale | Welsh Harp Sailing Club London |
| 5 | *Dep*13532 | Charlie Cotter | TBC | Welsh Harp Sailing Club |