End of Seasons Championship Report
We arrived at a sunny sailing club on Saturday morning with the wind was in a great direction. Boats trickled into the boat park ready to start racing for 12:00. A traffic jam delayed a few of the Northern boats but they were very swift in their preparation and the racing was underway. Race Officer Mark, set a great triangle sausage course for the fleet.
A clean start by all in the first race and was dominated all the way around by Richard Instone crewed with Steve Parker and close behind was John Hayes crewed with Joel James. Megan Hicklin and Hayley Ramadhar were holding onto third for most of the race but unfortunately, they didn't have a big enough breakfast and as the wind picked up Ross Kearny crewed with Ed Bradbrun flew through into third. The fleet was well behaved on the second start and it was a busy mark rounded at the top. The extra wind made everything a bit more interesting at the gibe mark, splitting the fleet up with Peter Gray, crewed with Simon Forbes, breaking away and keeping their distance to finish way ahead of everybody else. Following them over the line was Ross and Ed, then Sam Watson crewed with Bed Swainson.
After putting the boats to bed for the evening, everybody got dressed up for the Black Tie evening meal and the Craftinsure Super Eight prize giving. After fuelling up with lasagne dancing shoes were put on and we danced the evening away.
Sunday dawned misty but it was a foggy start for some for entirely different reasons! With the earlier launch time of 11:30 and the event all still to play for, everyone was on the line ontime. Also so Sunday we had an extra guest, Peter Mackin. We were very lucky that Peter took some great photos of all the sailors (see the full set here). It was another busy mark rounding at the windward in the first race of the day led by Andy Smith crewed with Phil Hodgkins who went on to win the third race. Next to cross the line was John and Joel and in third Peter and Simon. Everybody was very eager for the final race of the event with three starts and the appearance of the black flag. The dreaded black flag left everyone nervous approaching the windward mark where the rescue boat was holding up a white board. Four boats had been caught 'on course side' and they had to head for home, leaving Andy and Phil to add another win to their score. Neal Gibson crewed with Geoff Phillips took second and third was Richard and Steve.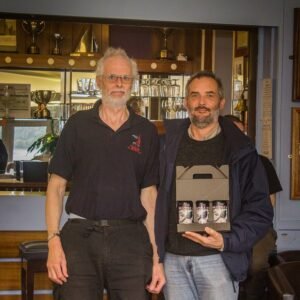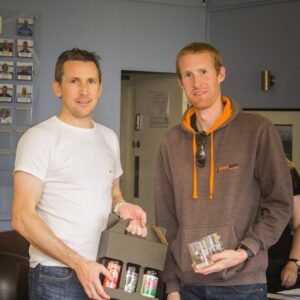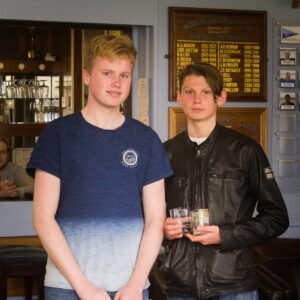 The overall results were calculated and with two race wins Andy and Phil won the event. Only two points separated second and third. Consistency payed off for Ross and Ed to allow them to take second. Peter and Simon, just one point behind, took third. First youth boat was Edward Coyne and Szymon Matyjaszczu who demonstrated some great sailing and will be a boat to watch as they develop.
Thank you to Burton Sailing Club for a fantastic weekend to close off our series. Thank you Craftinsure for making out Super 8 series memorable and successful.
It was a wonderful way to end the year and start the "Super 6" results for next year.
Steve Parry
---