40 entries for GP14 Nationals in first week of sales
Entry for the 2017 GP14 National Championships sponsored by Dinghy Rope, Impact Marine, Allen, Exe Sails, SP Boats, Paintcraft, Gingerboats only opened on New Year's Day but 25 places of the 70 allocation were snapped up in the first 72 hours, half of them gone by Day 5 and 40 places gone after the first week.
Commenting on the strong interest Championship Chair, Gill Beddow said: "Our previous event hosted by Looe SC, the World Championship in August 2012, attracted early entries and the 130 maximum places were achieved by February of that year with a waiting list of 30. Unprecedented in GP14 history of events. This was followed by a very successful 2016 Worlds in Barbados attracting 105 entries. It is pleasing to see that the momentum is not lost and with a maximum entry of 70 for the Nationals it looks likely to be a sell-out very soon!"
If the allocation of 70 fills this will be the most successful Nationals for the Class since 2004 at Abersoch, won by Mike Senior.
Mike, with Chris White (South Staffs SC), is once again one of the strong contenders for this year having come second at last year's Nationals. The Gold Fleet is shaping up well with multi-World and National Champions Ian Dobson and Impact Marine's Andy Tunnicliffe (Burwain SC) signed up as well as Gingerboats' Andy Smith and Phil Hodgkins (Bassenthwaite SC), Richard Instone and SP Boats' Steve Parker (Blithfield SC), last year's UK and World Champion Shane MacCarthy and third at the 2016 Nationals, Fergus Barnham (Northampton SC) sailing with Andy Hunter (Nantwich) this year.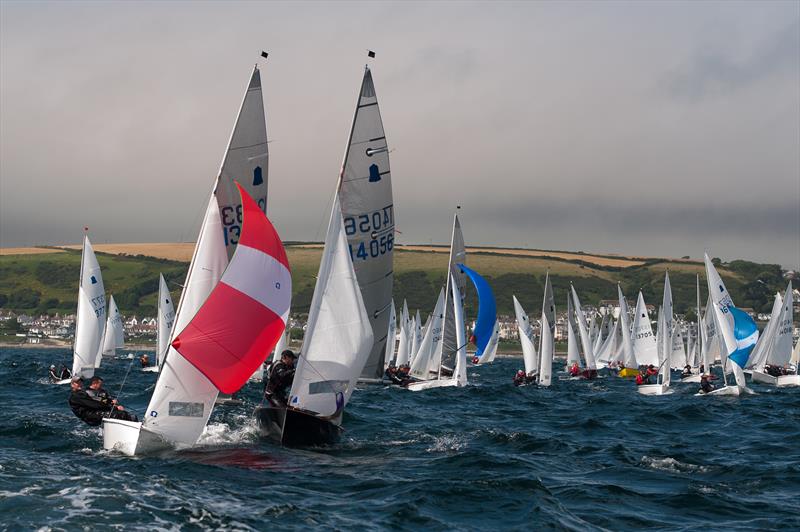 Other Gold Fleet contenders include Dave Young and Nic Booth (South Staffs SC), Andrew Clewer and Sarah Collingwood from Poole YC while for the Northerners it will be battle of the Boltons with the Club fielding two contenders in Gary Deighan and Dale Knowles as well as Mark and Sam Platt.
As well as strong Silver and Bronze Fleets there is also a good youth interest this year with Ralph Haliburton-Chaplin (Blackpool & Fleetwood YC) being the youngest helm to have entered at 13 and 14-year-old Szymon Matyjaszczuk (Welsh Harp) the youngest crew.
Adding the international element, Duncan and Gail Fraser are once again making the trip over from Sri Lanka.
Event key facts:
Week-long event from 6 to 11 August 2017 with optional sea training on 04 and 05 August
The entry fee is £205 on or before 08 July
A deposit of £30 can be made before 01 April and the remaining balance paid by 08 July
Youth Helm/non-youth Crew: £153.75, Youth Helm and Crew £102.50
Youths are those under 22 years of age on 31 December 2017
The event is part of the Craftinsure Super 8 Series
There will 10 scheduled races, daily socials, post-race beer and prizes all included. NOR and link to online entry on the event page.