Membership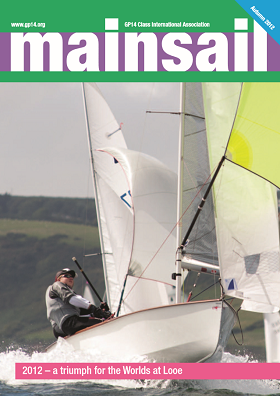 The International GP14 Class Association coordinates support for GP14 sailing worldwide, including in the UK. Here in the UK we are represented on the Association committee by a number of key volunteers, including Area Representatives. The extensive work of the committee depends on the support of GP14 sailors and ultimately your membership of the International Class Association. Through the Association, its volunteers and the work of Area Representatives, we are able to offer many benefits. It is, therefore, crucial that all sailors around the world support their International Class Association by joining. For some membership simply provides an opportunity to share an absorbing hobby with friends – for others it is the route to fulfilling their sporting ambitions. Many of the World's successful sailors learnt to sail in a GP14, including Ellen MacArthur and several winners of other national and international classes, the Admirals Cup and the Olympics. Whatever you are seeking, membership presents an opportunity to make new and lasting friendships, both in your home country and throughout the World, whilst taking part in one of the greatest sporting activities on earth!
Why join?
Membership of the Association is inexpensive and provides many benefits to anyone who owns a GP14, including:
GP14 Racing Circuit – class racing at world, national and regional level
The GP14 Association supports members through Grants and Funds.
Social Events – outstanding social events, not to be missed
Cruising – support and events for those who want to use their GP14 to cruise rather than race
Coaching – organised coaching at all levels – bronze, silver or gold fleet sailor, young or young at heart (we are never too good or too old to improve)
Class Rules – protecting the one-design status of the GP14 and controlling maximum prices, which helps to promote fair racing and prevent the value of used-boats crashing
Technical Information and Know-How – access to documents and members with years of GP14 experience – everything from sailing techniques to how to build a boat!
Members' Magazine – Mainsail, the Association's very own colour magazine packed full of articles, tips and advice
Website and emails – access to a huge amount of information at the click of a button, including "Members" sections containing lots of helpful hints
Insurance Scheme – approved discounted insurance scheme from Craftinsure
Preferential Purchasing Scheme – exclusive to members of the GP14 Association
GP14-branded clothing from Wave Clothing
GP14-branded sailcloth bags and other products from The Old Salt Loft
Sailing – a common passion– a network of friends who all have at least one thing in common and an enthusiasm to share and promote it
One of the best ways for GP14 sailors to maximise enjoyment of their GP14 is to join the Association and help support it's work. If you are not already a member, please join us today.
Membership fees
Annual Full Members Subscription – £31.00 (Discount of £2 if paid by direct debit: £29)
Annual Associate Members Subscription – £24.00
Annual Youth Members Subscription – £15.00
Annual Group Members Subscription – Min. 2 times subscription
Annual Full Members Subscription outside Europe – £10.00
One-event membership – £12.00
To pay your subscription by Direct Debit please click the following link: DIRECT DEBIT MANDATE
Please complete the mandate and return it to the GP14 office (address on the form).